Fia Restaurant
Fia Restaurant
is an inviting local restaurant serving up rustic Mediterranean-style dishes. Start your meal with some wood-fired hummus and charred octopus to experience the rich flavor imparted by the grill. Once your appetite is ready for more, try the Moroccan chicken tagine or braised lamb shank. Opt to share a few entrees and shareable sides, including fingerling potatoes, crispy brussels sprouts, and smoky ember-roasted baba ganoush.

Yes, the grill is the star of the meal, but don't overlook the desserts. Creme caramel, maple pudding brulee, and goat cheese, and local honey panna cotta are excellent choices to end your meal on a sweet note. There are several wine options to pair with your meal, and the bar menu features various snacks and specialty cocktails to suit your desires. From grilled prime meats and seafood to homemade pasta and small plates, Fia Restaurant has everything you need for a delicious dining experience.
Blue Ridge Grill
If you're looking for some delicious Southern cuisine and down-home hospitality, look no further than
Blue Ridge Grill
. The atmosphere is warm and cozy — the main dining room sports high, exposed-beam ceilings with rustic accents, while the enclosed porch is ideal for catching up with friends pre or post-meal.

The approachable menu features tasty starters, including crispy pork belly, crab cakes, and iron skillet mussels. For a lighter dish, opt for the baby beet and goat cheese salad, served with whipped feta, roasted pistachios, orange segments, and lemon vinaigrette. Enjoy a cup of the soup of the day before relishing a savory grilled Berkshire pork chop served atop wilted arugula, tomato and feta salad, and white balsamic-glazed peaches.

Classic Southern sides pair with any entree and include macaroni and cheese, collard greens with bacon, and corn soufflé. Indulge your taste buds in some local, seasonal fruit cobbler a la mode, and you've got yourself a perfect Southern dinner.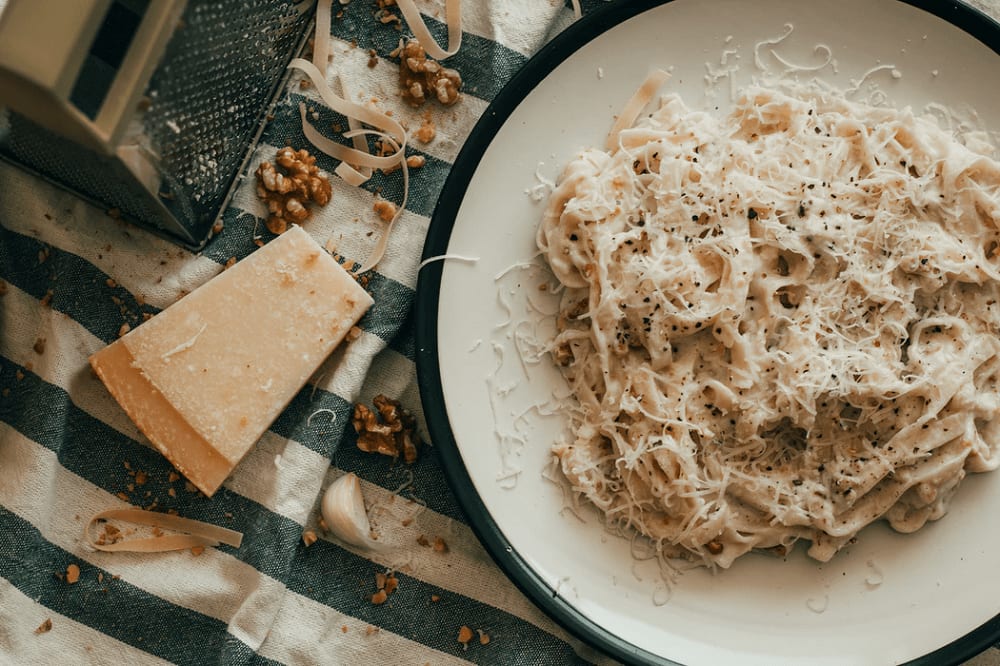 Pricci
Relish a classic Italian meal with modern panache at
Pricci
. Appetizers include traditional beef carpaccio, fried calamari, and a meat and cheese board for two served with coppa dolce, salame biellese, prosciutto di parma, duck prosciutto, pecorino, fresh mozzarella, soppressata, honeycomb and pickle salad. Pizzas are served piping hot from the wood-burning oven and include Mediterranean red shrimp and wild mushroom options.

Pasta offerings range from spaghettini pomodoro to cacio e pepe. Gluten-free pasta is available upon request. Try the grilled whole branzino or veal scallopini piccata for a filling entree, or fulfill your red meat craving with a 14-oz. prime New York strip. Bring your friends, family, or sweetheart to sip a bottle of wine while you delight in a lovely Italian dinner at Pricci.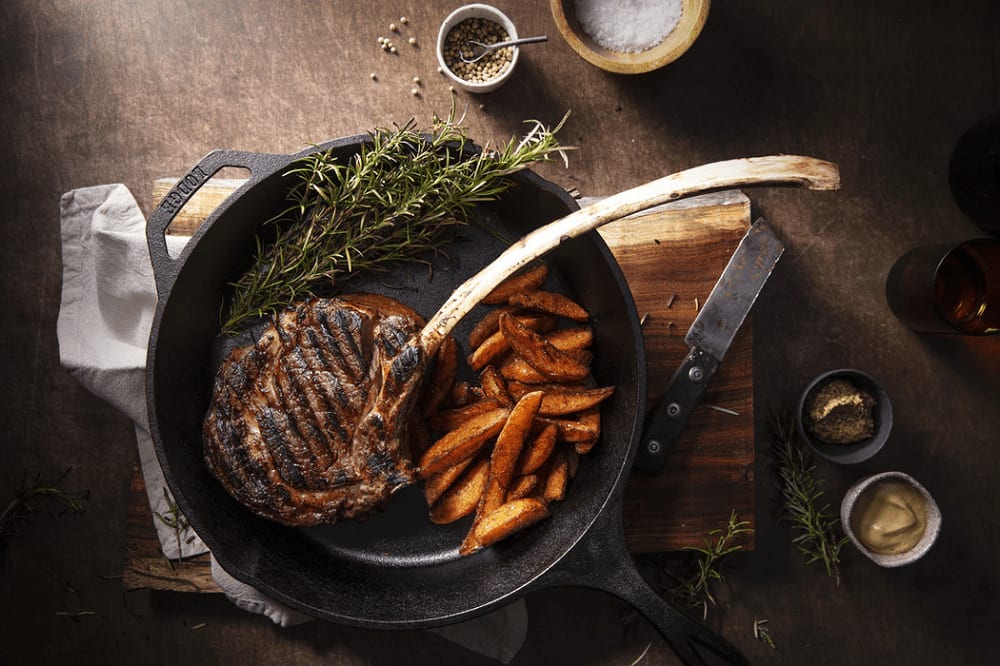 Bones
When your deepest desires include a mouthwatering steak, head to
Bones Restaurant
. This swanky joint has been voted the best steakhouse in Atlanta by Atlanta Magazine for 18 years. The wine list is expansive and features hand-picked varieties both old and new to go with the restaurant's signature dishes.

Bones is an excellent business lunch or dinner date spot featuring classic steakhouse plates. Share a shrimp cocktail and a delicate Japanese wagyu A5 New York strip with your sweetheart before luxuriating in a substantial 34-oz. bone-in ribeye fit for two. Alternatively, seafood lovers will be thrilled with the seared scallops entree or the broiled lobster with lemon stuffing. You can't go wrong with some truffle butter mashed potatoes, and grilled asparagus to complete your feast.

Dress up, grab your partner and enjoy a fine steak and a glass of pinot noir at Bones Restaurant.
Bistro Niko
Take a quick culinary journey to Paris with the contemporary French offerings of
Bistro Niko
. Head here for a savory brunch of classic steak tartare or a sweet brioche French toast and French roast coffee. Share some laughs and catch up on weekly events over an au poivre burger and tuna nicoise salad for a casual lunch. If an intimate and romantic evening is on the menu, start your meal by sharing some salmon rillettes and a prosciutto and blue cheese tart.
Keep it simple and classy by sharing Chef Gary's specialty, the "traditional country pate" served with cornichon pickles, grain mustard, and baguette toast. Follow your apps with a traditional coq au vin or opt for the Florida gulf shrimp saute provencal. Open for brunch, lunch, and dinner, Bistro Niko is an exceptional location to enjoy a fabulous French meal with friends and family.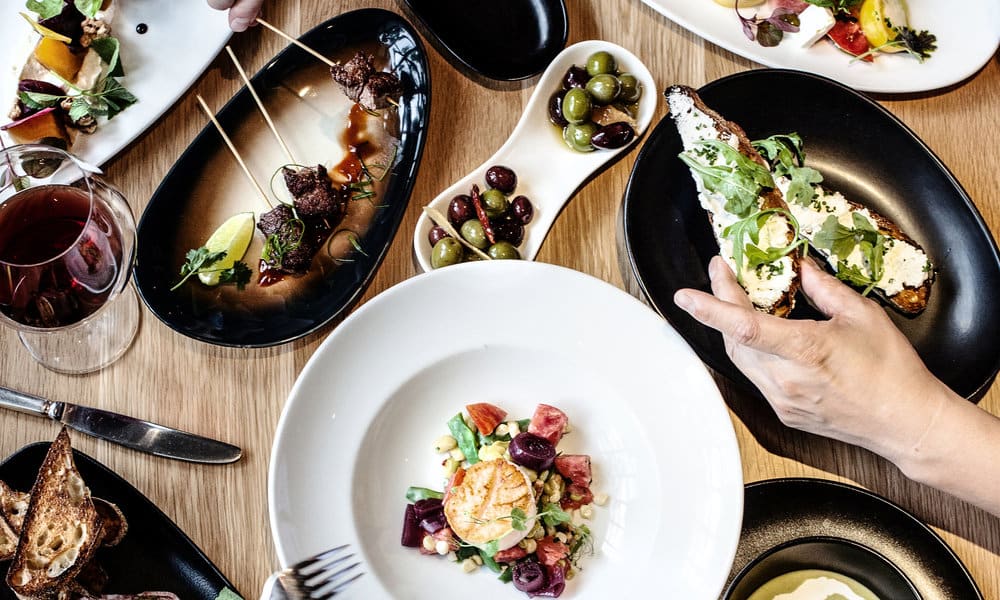 Aria
Aria's hip and comfortable dining room is perfect for unwinding after a long day while savoring chef Gerry Klaskala's delightful offerings. Noteworthy shareable snacks include chickpea fritters, 12-month old manchego, and crisped Berkshire pork belly. Snag a bowl of Maryland-style blue crab chowder and a plate of arugula and endive salad before sharing some butter-braised Maine lobster and yellowtail hamachi sashimi.

Entrees include an Atlantic halibut fillet, duck breast, beef short ribs, and other sumptuous dishes. A refreshing bowl of passion fruit sorbet or an indulgent Georgia peach tart is the perfect ending to a well-rounded, Southern-inspired upscale dining experience. With its award-winning wine list, craft cocktails, and fabulous dishes and desserts to match, Aria is a must-visit.
Atlas
Located inside the St. Regis Atlanta hotel,
Atlas
provides patrons with a contemporary take on traditional cooking techniques and fare. The menu is deeply inspired by fresh, seasonal produce acquired from local farms. The dining room menu frequently changes with the tides to showcase ever-changing seasonal ingredients. Guests have the option of savoring a la carte dishes or opting to try the carefully curated chef's tasting menu.

The current tasting menu takes your senses on an intricate trek through flavorful marvels. Your journey begins with fine smoked sturgeon caviar and makes its way to the Snake River Farms coulotte, served with mushroom ketchup, turnip, and bok choi maitake. The palate is then cleansed with some blood orange "nitro" before you finish with a sweet hazelnut chocolate sphere. Cocktails are varied and match the complex menu flawlessly.

Feast your eyes and palate with the vast array of delectable offerings at Atlas.
The Capital Grille
Relish a modern steakhouse dinner within the posh and sophisticated environs of
The Capital Grille
. This location is ideal for a dinner date with your significant other, spending time sharing smiles and delightful plates. An intimate evening starts best with some fresh oysters on the half shell, followed by a luscious serving of Nueske's cherrywood double-cut smoked bacon with tomato jam and pickled shallots. Follow the hearty pork dish with a light field greens salad before moving on to the main course.

Chef recommendations include delicious assortments of sliced filet mignon with cipollini onions, wild mushrooms, and fig essence, and porcini-rubbed bone-in ribeye with 15-year aged balsamic. Order the pan-seared sea bass with miso butter for a light yet flavorful dish, or choose the double-cut lamb rib chops for a heartier plate. Once you've had your fill of tasty treasures, finish your dinner with a slice of housemade Capital Grille cheesecake, served brulee-style with fresh berries.

The steaks are to die for, and the setting is stunning, so head to The Capital Grille for your next date night venture.
Kyma
Get a taste of modern gourmet Greek cuisine with a focus on Mediterranean seafood at
Kyma
. Share some olive, eggplant, and chickpea spreads with some friends, all served with grilled pita and paired perfectly with cocktails. Meze items include spinach pie, grape leaves, and zucchini fritters with feta, mint, and saffron yogurt. Choose from one of the fresh whole fish from the ice display. Once it's cooked, the staff will filet your fish for you and serve it with extra virgin olive oil, Santorini capers, and Tuscan kale. If you prefer a meatier entree, choose between the organic chicken breast, Australian lamb loin, and beef tenderloin oak-wood grilled souvlaki, or share a 22-oz. ribeye.

To sample everything Kyma offers, leave the spread up to the chef by choosing a five-course tasting menu. Pair your meal with a glass or two of wine, or try one of the signature martinis or cocktails. Whatever combination of plates and libations you choose, you simply cannot go wrong. Kyma's atmosphere and the menu will take your taste buds on a culinary journey to Greece.
Given the plethora of fabulous restaurants and features of
Buckhead
, it's only a matter of time before you begin your search for a Buckhead mansion. Contact real estate agent
Kelly Boudreau
to assist you in your quest for Buckhead real estate. Kelly's expertise in selling and buying luxury real estate will help you find the perfect home you and your family have been envisioning.