With low inventory and
prices on an upward trajectory
, the Sandy Springs, GA, real estate market is currently in favor of sellers. This is great news for homeowners ready to sell their Sandy Springs real estate in the new year, as they're likely to attract plenty of interested buyers (and excellent bids).
To increase the chances of high, well-qualified offers, homeowners should follow national best practices for preparing their Sandy Springs real estate for the hot market. This includes pricing your property competitively, investing time and energy into cleaning and refurbishing the home, and working with an experienced Sandy Springs real estate agent to develop a strategic marketing plan to reach buyers.
Another way to boost your home's competitive edge and sale price is to enlist the help of a professional stager. Professionally staging your home will make it as appealing as possible for potential buyers, and help encourage qualified bids. Below is a complete breakdown of everything you need to know about professionally staging your Sandy Springs real estate for sale.
What is staging?
Staging is the process of adding, removing, or rearranging decor and furnishings in order to make rooms appear larger, brighter, and more attractive. During the staging process, a professional stager will evaluate each room and determine what its purpose is, and how that purpose can best be expressed with the items you currently have on hand (or if additional furnishings need to be brought in).
Professional staging has been proven to increase the sale price of homes by
anywhere from 1 to 5%
and to significantly decrease the amount of time a home spends on the market. While you can opt for
virtual staging
, or tackle the project on your own, hiring a professional is always the best way to guarantee you see the full benefits of staging.
Below are four reasons to hire a professional stager:
1. To Ensure Each Room Has a Designated Purpose
One of the main focuses of staging is to ensure that prospective buyers can visualize themselves living in your house. To achieve this, your stager will carefully evaluate each room in your Sandy Springs home for sale, identify its purpose, and stage it accordingly. For example, if you have turned a guest room into a storage space or a home gym, your stager will return it to its original purpose by removing your items and furnishing it with a queen bed, dresser, and bedside table. If buyers cannot determine what each room should be used for, they tend to disregard them as usable space.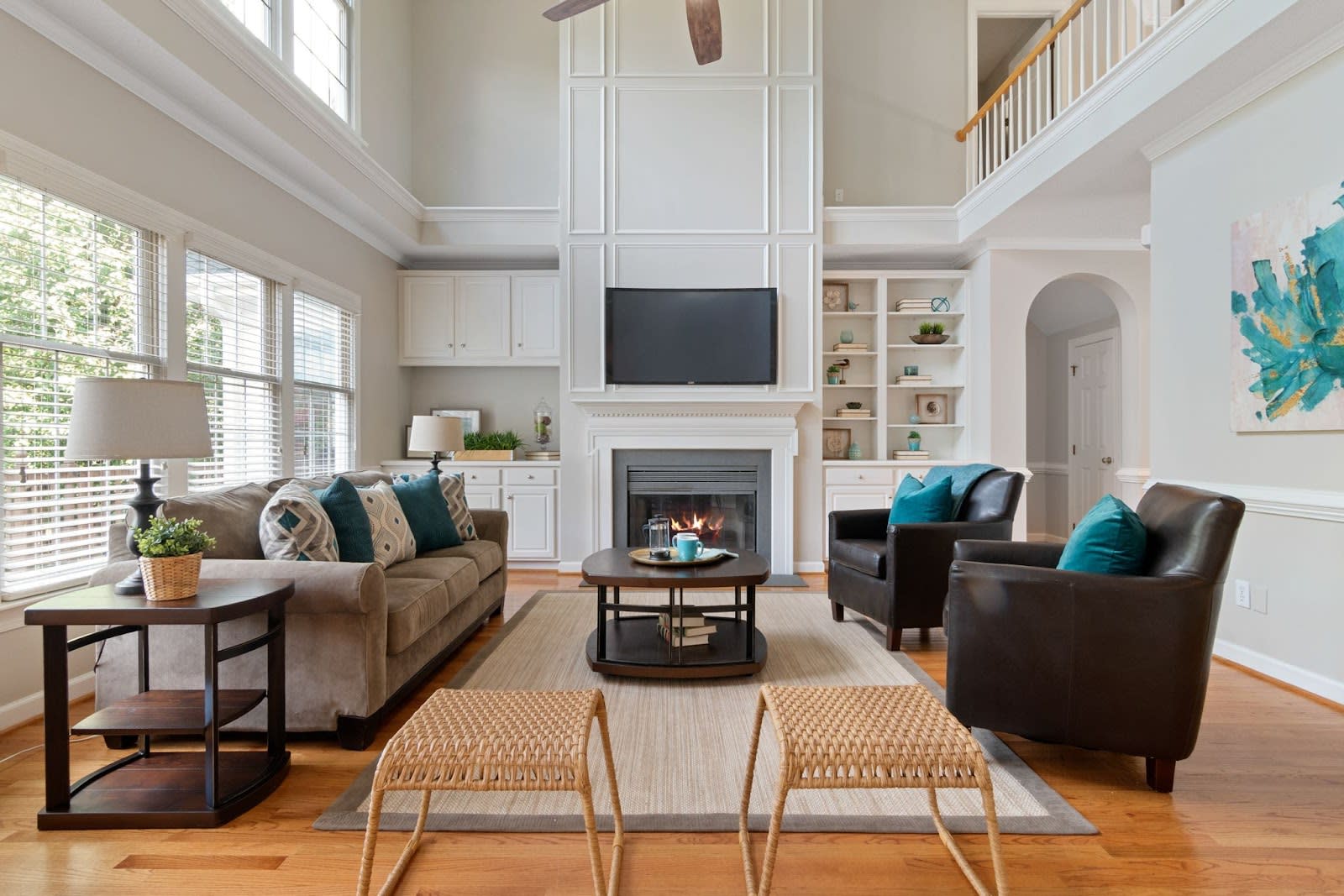 2. To Help You Declutter and Depersonalize
Residents who have owned their Sandy Springs real estate for many years have typically accumulated a high density of possessions. Clutter can make your home appear smaller, more cramped, or poorly maintained. When you hire a staging professional, he or she will help you go through your belongings determine what you should keep in the space, and make it easier for you to choose what to sell, donate, or toss. For the items you plan to keep, your stager will advise you to store them in a rented storage space until you're ready to be moved to your new home. When you free up floor, wall, storage, and counter space, your home will show much better.
Once all the clutter has been removed, your stager will also help you
remove any personal items or decor
that could be distracting to buyers. This includes vibrantly patterned window coverings or throws pillows, framed diplomas or awards, family portraits, and sports memorabilia. When your home is free of these highly personal touches, prospective buyers will be able to imagine their own decor and personal items adorning the house.
3. To Remove Large or Excess Furniture
Even the largest spaces in your home can look cramped if they're filled with bulky furniture. When a professional stager goes into single-family homes for sale in Sandy Springs, they will look at each room and remove any furniture that is not needed to clearly define the purpose of the space. A sitting room, for example, will likely only need a chair or love seat, a side table, and a floor lamp. If a room has furniture that is too large for it, the stager will remove the items and replace them with smaller, lighter versions that better fit the space.
4. To Perfect Your Space
As any Sandy Springs real estate professional knows, it's often the little things that sell a home. Your stager will ensure that all the small details are in place before your first prospective buyer walks through the door. This may include burning some scented candles, placing fresh flowers throughout your home, setting the table with quality dishes, linen napkins, and wine glasses, and placing a cheerful new welcome mat by the front door.
Staging is one of the most reliable ways to make single-family homes for sale in Sandy Springs stand out from the competition—and encourage competitive offers. If you want to maximize your sale price while minimizing the time your home is on the market, hiring an experienced professional stager is the best choice.
Ready to list your Sandy Springs home for sale?
When you're ready to start the pre-listing process or to learn more strategies for listing your home, contact trusted Sandy Springs realtor
Kelly Boudreau
. Kelly can help you choose the right stager for your project, and help you price your home correctly and competitively. Then, she'll use her network and digital marketing expertise to connect you with well-qualified buyers and make your selling process both smooth and rewarding. Whether you're ready to list your home or just learn more—
contact Kelly today
for the best market analysis and customer service Sandy Springs has to offer.